Going to the Mansions for an event (Printer-friendly PDF Here)

From I-80:
1. From I-80 East/West - take the TENNESSEE ST/Mare Island exit in Vallejo, and head West approx 2.0 miles.
2. TENNESSEE ST becomes MARE ISLAND CauseWay - go 0.8 mile, crossing on the Mare Island Causeway Lift Bridge.
3. MARE ISLAND CSWY becomes 'G' ST - go 0.3 mi - to the flashing stoplight at Railroad Avenue.
4. Go through the light and continue to the next intersection - Walnut Avenue - where you will make a LEFT turn, and continue for approximately one mile, past the white mansions of "Officer's Row."
5. Stop at the intersection of WALNUT AVE and 8th Street - street parking is available on 8th Street.
NOTE: The "Admiral's Mansion" (800 Walnut) has a blue awning over the front steps; the "Captain Mansion" (822 Walnut) is just past the Admiral's.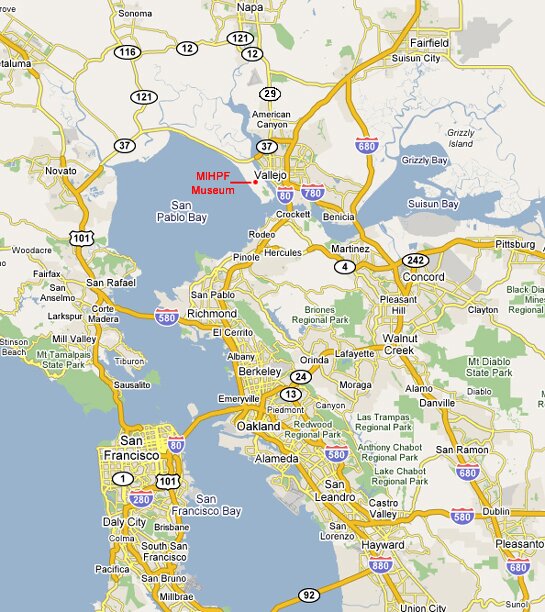 Directions from Highway 101:
1. From 101 North, Marin, Sonoma Counties - exit onto SR37 going East toward Vallejo, approx 20 miles.
2. Take the Mare Island exit - Walnut Street (it's just before the tall, arching bridge over the Napa River) .
3. You will proceed through two stop signs - approximately two miles, past the white mansions of "Officer's Row."
5. Stop at the intersection of WALNUT AVE and 8th Street - street parking is available on 8th Street.
NOTE: The "Admiral's Mansion" (800 Walnut) has a blue awning over the front steps; the "Captain Mansion" (822 Walnut) is just past the Admiral's.

Ferry service to Vallejo:
www.baylinkferry.com

Accommodations information:
Vallejo Convention & Visitors Bureau