Events on Mare Island:
The Admiral's mansion and Captain's mansion are available for receptions, class reunions, company parties, meetings, etc. The cost for these events is $1200 for 7 hours for the Admiral's Mansion; and $850 for 7 hours for use of the Captain's Mansion. A wedding and reception combined, at either mansion would be an additional $200. For shorter time periods, there is a 3 hour minimum for events at a cost of $175 per hour; and short hour usage of the Mansions is normally not available on weekends.

Both mansions have beautiful back yards for spring and summer parties. Call Dave Smith at 707-649-8024 for availability of dates and to view facilities. Prices are subject to change. Besides weddings and receptions, the mansions and gardens have been sites for the fund raiser annual Contra Costa/Solano Food Bank, held each June.

Enjoy a 360º Tour of the Admiral's Mansion. A Photo Gallery of the Captain's Mansion is here.
For Directions / Map to the Mansions - CLICK! Here.

Mare Island Museum is also available for parties and fund raisers. Events and fund raisers held at the museum have included the annual Sister City dinner and cultural event; Scouts Pinewood Derby; The Nocturnes AlumNight events; and the Lou Burgelin tribute.

Call Ken Zadwick at 707-557-0662 for prices and availability of the museum for your event!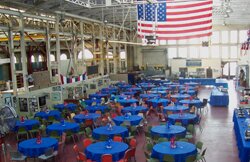 Dinner setting at the Museum