Hold your Wedding on Mare Island:
The Admiral's mansion and Captain's mansion are available for weddings, receptions, vow renewals, etc. The cost for these events is $1200 for 7 hours for the Admiral's Mansion; and $850 for 7 hours for use of the Captain's Mansion. A wedding and reception combined, at either mansion would be an additional $200. For shorter time periods, there is a 3 hour minimum for events at a cost of $175 per hour.

Both mansions have beautiful back yards for spring and summer parties. Call Dave Smith at 707-649-8024 for availability of dates and to view facilities. Prices are subject to change.

Enjoy a 360º Tour of the timeless interior of the Admiral's Mansion.

For Information on renting the Chapel for your Wedding, visit our Chapel Page.

For Directions / Map to the Mansions - CLICK! Here. Directions / Map to St. Peter's Chapel - can be found Here.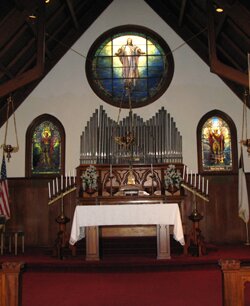 Chapel Altar, Organ Pipes